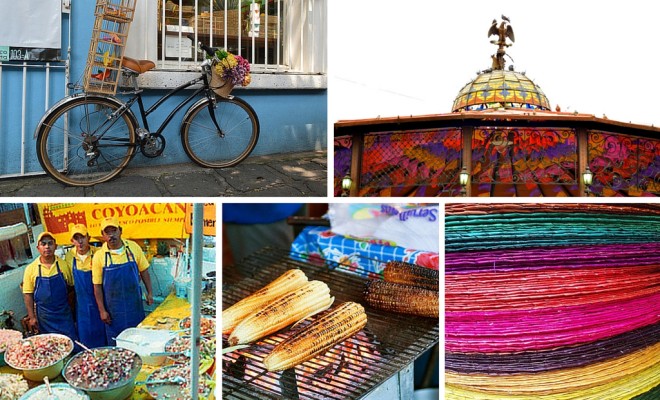 Visiting Mexico City (Travel Guide)
|
With a 5-day work trip on the books for Mexico this summer, I decided to tack on an additional four days of fun in Mexico City and invited my friend Karen along to be my wing-woman.
First things first, our hostel was awesome. Okay, so the WiFi was terrible and the pillows were lumpy, but Karen and I had a blast staying at Hostel Mundo Joven Catedral. It was located directly next to the Zocalo, so sightseeing was a breeze. The rooftop bar had a spectacular view, cheap drinks, and fun activities each night.
We danced the night away on salsa night, and then drank free tequila while meeting new friends (and cute boys) on tequila night. The hostel also hosts free tours around the city – we went on a tour to Chapultepec. While it wasn't ground-breaking, we did meet new people and ate at a yummy taco place we might not have picked otherwise. Lastly, the restaurant in the hostel had delicious food and you get 15% off for being a guest.
Visiting Mexico City's Historic Center
Mexico City's Centro Histórico (historic center) is perfect for walking tourists. With great architecture around every corner, photo opportunities are everywhere. At the top of this list is the Metropolitan Cathedral (Catedral Metropolitana). It's a beautiful old cathedral that shines in photos. This church is located at the Zocalo, the second biggest square in the world. We were lucky enough to be there when a giant free summer concert was taking place. Who knew that an accordion player would be so popular?!
The National Palace (a government building) is located on one side of the Zocalo. The famous Diego Rivera murals line the outside hallways here. Directly across from Mexico's "White House" is the Gran Hotel which offers yet another great place to take photos of the cathedral. Grab a seat on the balcony and ask for a paloma for a happy hour one evening.
Another hotel nearby that we visited was called the Majestic Hotel which is famous for its Tiffany stained glass ceiling and birdcage elevators. A short walk away is the Torre Latino, the tallest building in CDMX. For a few dollars, you can get a stunning vista of the entire city. I recommend going at night for a different point of view.
Exploring Coyoacán
Did you know that Frida Kahlo and Diego Rivera used to live in Mexico City? Visit their Casa Azul (Blue House) in Coyoacán. Here, you'll learn about the artists, view some of their lesser-known works, and peruse their former home.
After the museum, make your way to Xochimilco, a river market where you rent a boat and driver to take you down the river. A few tips: bring your own food! While there are food "stalls" or people selling food from their boats, you can also bring your own to save a few bucks. Also, bring friends! There were only two of us on the boat and though we enjoyed ourselves, we agreed that it would've been more fun with a group. It's also cheaper to have more people! The cost is 1000 pesos total (though you should definitely barter here – we got it for 800) no matter how many people are on the boat. Lastly, don't forget cash for food and souvenirs – credit card machines are nonexistent on the river.

Day Trips from Mexico City
During our trip, we decided to hop on a tour bus for a day of history and alcohol. Our bus first stopped at a pulque, tequila, and mescal farm, all of which are liquors made from agave and cactus plants. We saw the process of how each of these were made, did a little taste test, and as any good tourist bus will do, went to the gift shop. After catching a buzz, we hiked Teotihuacán. This area used to be a city with pyramids honoring the sun, moon, and city gods. Wear your sneakers, bring sunscreen, and charge your camera batteries. This day is totally worth it.
Restaurants and Nightlife in Mexico City
I'm sad to say, but I can only recommend one restaurant that we visited: Café de Tacuba. The food was tasty, though a bit overpriced. There are a lot of food stalls and small restaurants all over the city, so be prepared to pop into one for a tasty Mexican treat.
Last, but certainly not least, CDMX is known for its good nightlife. If you stay at Hostel Mundo Joven Catedral, there's bound to be a night out so hop on that train! If you do go out, go with friends, bring your dancing shoes, and be ready to stay out 'til at least 4am.