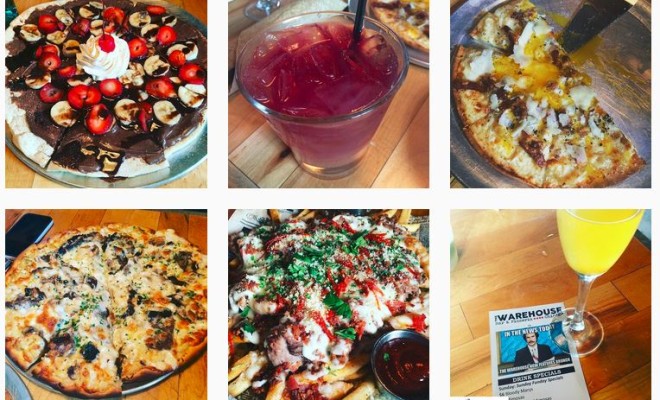 The Warehouse Bar & Pizzeria [REVIEW]
|
At the request of my friend Jillian, I recently went to The Warehouse Bar & Pizzeria. There just so happened to be a mini promo event going on, so after twisting my arm (and inviting co-blogger Lisa and a few other friends) Sunday turned into a really Fun-day! I mean, who wouldn't want a chance to win the Escape with VitaCoco trip to Brazil?
The Warehouse Bar & Pizzeria had some awesome specials going on that day ($15 bottomless mimosas with 6 different kinds of juice) and we were able to sample some of their food as well.
We started with 2 different brunch options:
Bananas Fosters French toast, it's ok… start drooling.
And then we ordered one of the breakfast burritos, which in my opinion is the perfect cure for a hangover.

After brunch we went straight into the appetizers and ordered the Monster Frites. These aren't for the faint of heart, mmmm meat!
We also ordered the Prosciutto grilled cheese
Coma. A photo posted by Lisa Marie (@chicagoista) on
(not pictured: Seared Ahi Tuna – which, according to our friend Jen was really tasty).
As if we weren't stuffed enough from all of that, next up was two of their specialty pizzas:
The Truffle Mac, which is literally a dinner on top of pizza crust! How can you go wrong with pizza crust, mac and cheese, and truffles. Exactly, you can't, so when you go make sure to order one of these for yourself (or share it with the table, if you're feeling nice).
The second specialty pizza we ordered was the Carbonara: pizza with an egg on it?! Duh!
And yes, at this point I am glad I wore my fat pants because… dessert pizza! Or as my friend Nicole referred to it as 'A sundae on a pizza crust'.
I also was introduced to a new magical drink (thank you to Jillian's boyfriend, Anthony). Essentially a Sicilian Sour* – don't mind us Italians! A little bourbon, simple syrup and a splash of red wine to turn it the most gorgeous color of fuschia.
*Note – one is not enough of this delicious cocktail. Don't say I didn't warn you. It's also pictured in the main image, top and center.
The Warehouse Bar & Pizzeria makes for a great game-day location to catch your favorite team in action. Plus, they have Trivia Night on Wednesdays and live acoustic music on Thursdays. Don't forget to check them out on Twitter, Instagram, and Facebook.