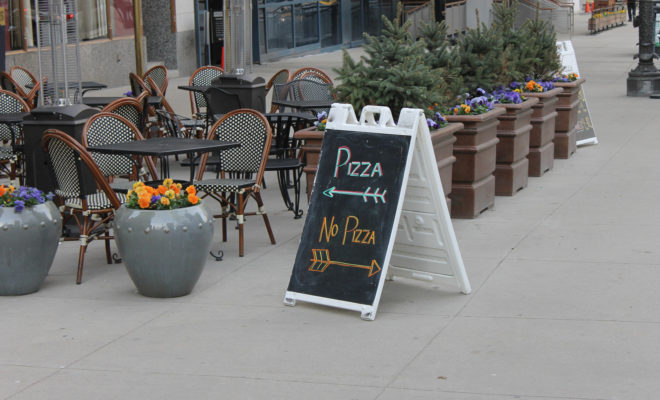 flickr/cseeman
Doing Italian Food the Right Way: Bella Bacinos [Restaurant Review]
|
Chicago is known for its Italian food… deep dish pizza and Little Italy, anyone?!
So when a friend and I went to Bella Bacinos, we had high expectations. Can the pizza be as good as the famous Lou Malnati's? Will the pasta rival its competition? By the end of a seven-course meal, we were officially stuffed, satisfied, and completely sure that this restaurant was delizioso!
Appetizers
Seasonal Bruschetta
"Love at first bite" is a real thing, especially when it comes to the seasonal bruschetta. This definitely isn't your basic bruschetta. With slices of prosciutto and a balsamic drizzle, my friend would have gladly eaten an entire plate of this delicious appetizer to herself, though she would have had to fight me for it.
Warm Goat Cheese Salad
Looking for a little more greenery in your meal? We both highly recommend the warm goat cheese salad. Actually, skip the salad and go straight to smothering the side of toasted bread with the nut-crusted goat cheese. You will not forget it!
Pasta
Chicken Cavatappi
Another comfort food classic, the cavatappi is perfect for a chilly Chicago day. Sometimes alfredo sauces can be a bit heavy, but that was not the case with this light and creamy alfredo. Seconds… or thirds, even, are acceptable, amirite? Actually, just hand over the entire bowl. Who needs leftovers?
Penne Bolognese 
For red-sauce lovers, try the penne bolognese with five (count 'em, five!) meats. Yum!
Pizza & Pizze
Prosciutto Arugula Pizze 
If you prefer your carbs in the form of pizza, then try the prosciutto arugula pizze (yes, with an 'e'). We know, we know … but Chicago is known for its deep-dish pizza. While this may be true, there is something to be said for its thin-crusted cousin. With prosciutto di parma, baby arugula, mozzarella and San Marzano tomato sauce, you practically cover the four basic food groups… so that makes it healthy, right? Right on!
Spinach Supreme Deep Dish Pizza
When the waitress described the deep dish at Bella's, we were skeptical. There's no way it could be as good as its competitors! And while it did miss the mark a bit. it was still pretty tasty. Rest assured cheese-lovers, a thick blanket of cheese snuggled in with mushrooms and spinach for a twist on the classic.
Dessert
Cannoli
No Italian meal is complete without a homemade cannoli sweetening up the end. While Bella Bacino's cannoli was a bit rough around the edges and the shell was a little too overdone, the sweet cream in the middle was perfecto and the fresh berries were the loveliest of last bites.
With its four Chicagoland locations, you are spoilt for choice on indulgent Italian food at Bella Bacinos, so the next time you and your Beau are looking for a joint to eat, check out one of Bella Bacino's locations.
75 E .Wacker, The Loop, Chicago
36 S. LaGrange Rd., LaGrange, IL
2204 N. Lincoln Ave., Lincoln Park, Chicago
248 W. Diversey Pkwy, Diversey Harbor, Chicago