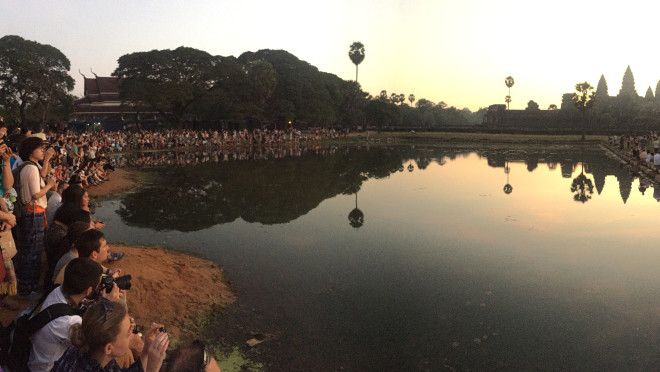 Visiting Siem Reap, Cambodia
|
I recently went on a 3-week trip to Southeast Asia, including 2 weeks between Phnom Penh and Siem Reap, Cambodia, 5 days in Laos, and 2 days in Hong Kong. Overall, the trip was really fantastic – I met a lot of great people, got to meet up with friends from Hong Kong, saw amazing historical sites, had fun travel buddies, and ate yummy food. 
If you missed my first post about Phnom Penh, you can read about it here.
Siem Reap, Cambodia
The second stop in the adventure:

The temples of Angkor Wat are the reason why people travel to Cambodia. Built over 800 years ago, these temples are absolutely fascinating. Many of the structures were unfinished and left to ruin. In the 19th century, French explorers rediscovered the temples and since then the historical buildings have been the go-to destination for Cambodia.
There are many temples that make up Angkor Wat and you can choose to explore many of them with multiple-day passes. You can hire a guide to drive you around and explain the historical significance, bike around the complex, or simply hire a tuk tuk driver for the day. We chose to go for one day with a tuk tuk driver who took us to the four main temples we were most interested in visiting.
Angkor Wat
The most common way to visit this temple is at sunrise. It's a 5:00am pick-up so you can enter the park at the 5:30 opening time. It definitely is worth the early alarm.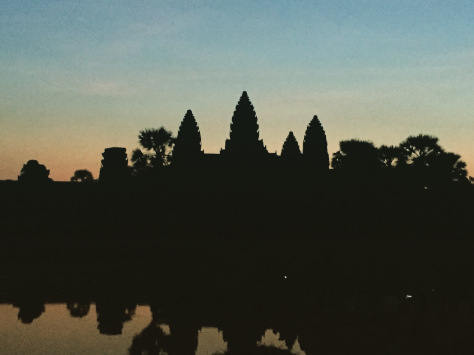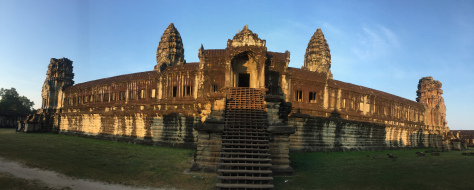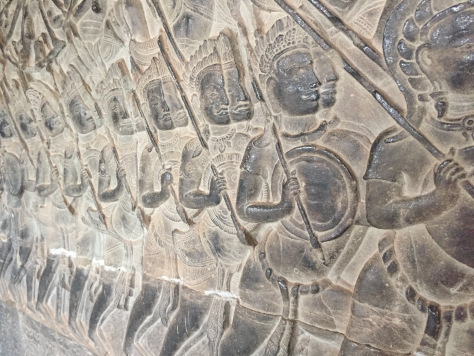 Hint for this early morning: bring snacks! You'll be hungry since it's breakfast time, but eat a snack and wait for breakfast. Everyone else will watch the sunrise then go to the nearby stalls before exploring the wat (temple), Instead, watch the sunrise, explore Angkor Wat whilst eating a snack (it's only one temple, technically, but most people call the entire complex Angkor Wat when in fact it's a lot of temples), then go for breakfast to stay away from the crowds.
Angkor Thom
Technically, Angkor Thom is like a former village or a collection of temples, but the entrance to it is awesome. Bayon Temple is located inside of Angkor Thom.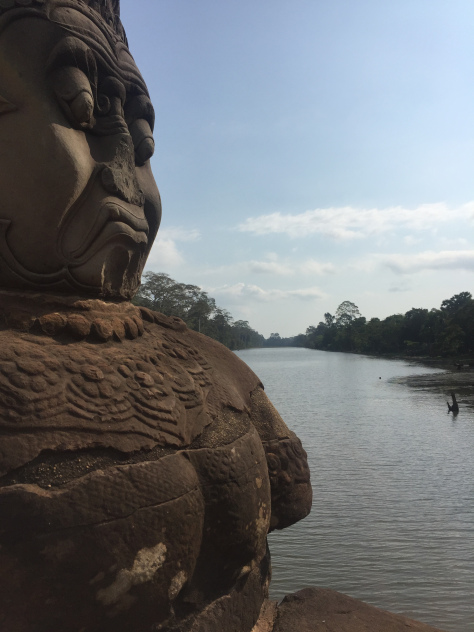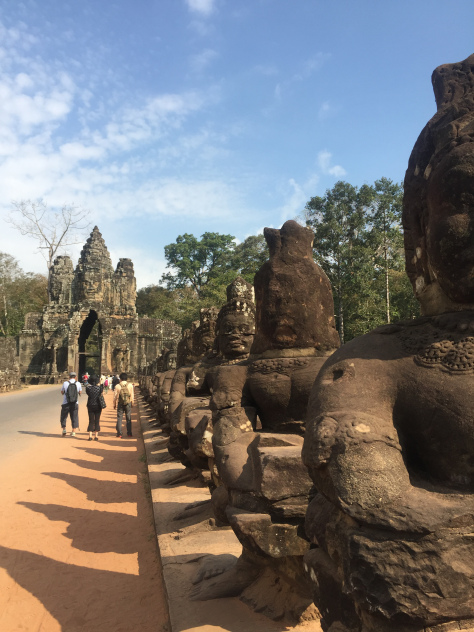 Bayon Temple
Of the temples we visited, Bayon was my favorite. These giant faces adorn the tops of the ruins smirking in the sunlight. It's a maze, so take your time exploring this amazing place.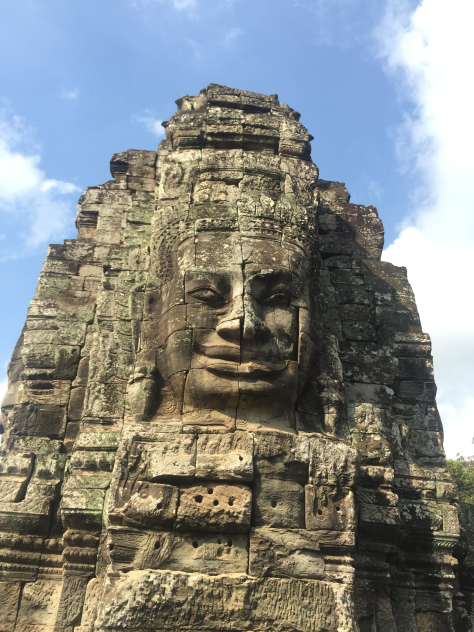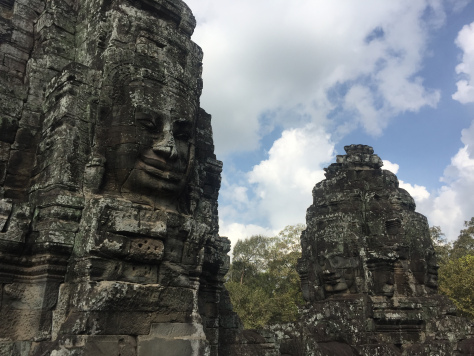 Ta Prom
Ever watch Tomb Raider? If so, then you've seen Ta Prom before. Banyan trees have grown over the ruins of this temple creating an earthy, natural feel. Recommendation: there are two paths when you arrive that you can choose between: take the long route to avoid mass groups of tourists.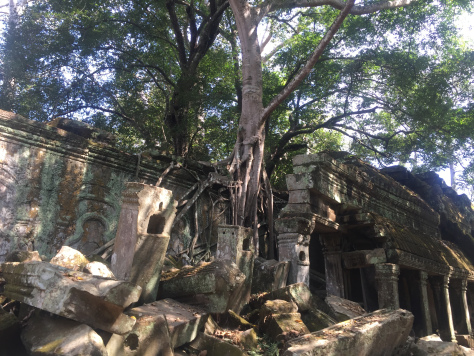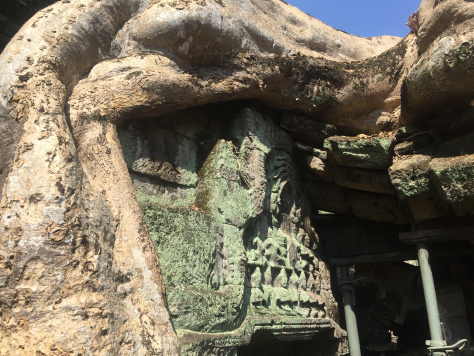 Banteay Srei
Banteay Srei is well-known for its pink stone and is said to be one of the most beautiful in the complex. After a long, hot day, though, we were the least impressed with this temple.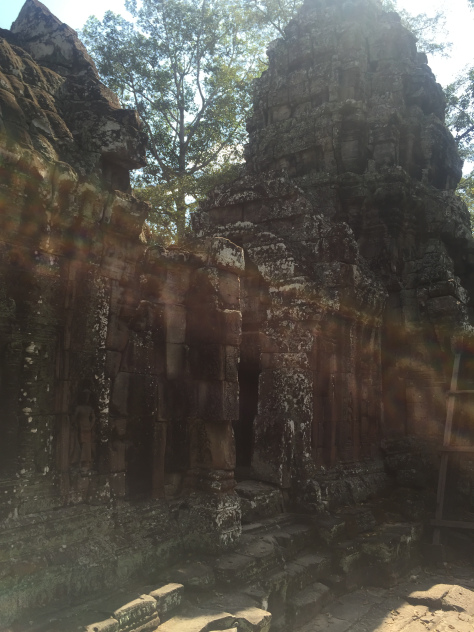 Of course, there's more to Siem Reap than just Angkor Wat. One of my favorite days during my 3-week trip was at Phnom Kulen National Park. It's a bit of an expensive day, but basking in the sun while under a waterfall is the perfect antidote to a long day exploring temples.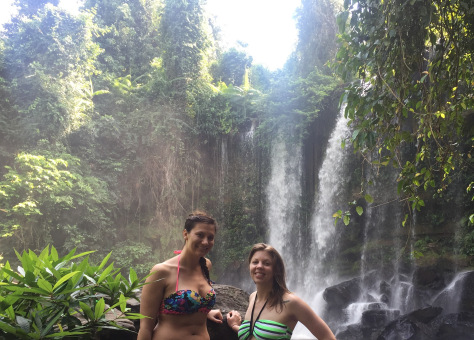 Siem Reap costs:
Please note that most things are sold in U.S. dollars, not Cambodian Riel, so the prices listed here are in USD.
One-day entrance fee for Angkor Wat $20
Tuk Tuk driver for full-day experience at Angkor Wat $20
Car rental with a driver for Phnom Kulen National Park $45 (you can also join tour groups for a cheaper option if you're going solo)
Entrance to Phnom Kulen National Park $20
Tuk Tuk to/from airport $5
Other sites in Siem Reap:
Pub Street – I'm not much for tourists in big groups drinking copiously, but you'll want the 50 cent drafts Pub Street offers after a hot and humid day
Old Market – perfect for souvenir shopping
Angkor Night Market – also great for souvenir shopping
Apsara dancing and buffet – traditional Khmer dancing with a huge buffet for only $12?! Sign me up!
Accommodation:
Want to read more about Angkor Wat? Check out this great website.
Have you been to Cambodia? What is on your must-see and must-do list?