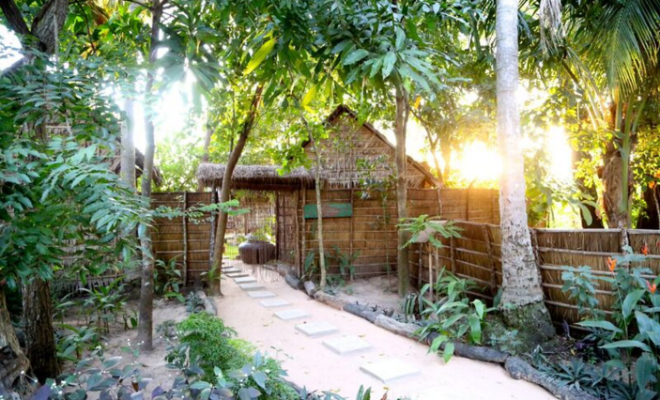 Finding Inner Peace In Cambodia: Hariharalaya Retreat Centre
|
After spending time visiting Phnom Penh and exploring Siem Riep, I decided to end my time in Cambodia at Hariharalaya Retreat Centre. Located in the Cambodian countryside, the retreat center is set amongst the rice paddies, thatched huts brimming with smiling children, ancient temples, and markets selling dried meats, fruit, and little bottles of shampoo in pouches.
The six-day session I attended at Hariharalaya included guests from all corners of the world – Europe, North America, other East Asian countries, and even New Zealand. We came together for this week for various reasons: some were looking to find find inner peace, many others were hoping to deepen their yoga or meditation practice, while others were simply in search of relaxation.
The 6-day package I booked at Hariharalaya Retreat Centre included a wide variety of offerings – frequent yoga and meditation sessions, three types of massages, and a menu featuring myriad fresh pressed juices and vegan delights, and lodging.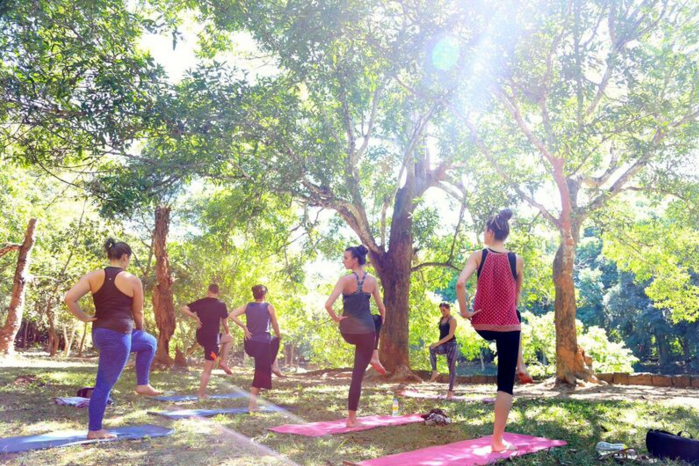 Yoga and Meditation Sessions
On Day 1, we received an intro to meditation, including the whys and hows, as well as tips for "enduring" meditation. While I frequently practice asanas (or yoga poses), I've only meditated a handful of times prior to attending the retreat – most recently through the app called Headspace. In all honesty, I struggled through most of the meditation sessions. The meditation sessions at Hariharalaya ranged in length from 10 – 30 minutes, and some sessions were easier for me than others. That being said, I found it quite helpful to speak with the yoga instructors at Hariharalaya to get tips on how to improve my meditation practice.
Both yoga and meditation are practiced no less than twice a day at Hariharalaya. The morning session is from 7-9am with at least one hour dedicated to asana practice (what we typically call yoga in the Western world), 30 minutes of meditation, and an occasional chanting session. The classes are multi-level, so beginners and advanced practitioners will enjoy the classes. The evening class typically features both asana and meditation.
One night, we even did a dance meditation class, which was an absolute blast. I love to dance so this kind of meditation was right up my alley. Fab music, no inhibitions, everyone just going mad – a night for the books!
If you're interested in booking a retreat at Hariharalaya Retreat Centre, you may be wondering about the food. All of the food at Hariharalaya is vegan, so there's no eggs, no dairy, no meat. As a non-vegetarian, I was a bit worried about starvation in these six days, but was pleasantly surprised at how tasty the food was. All of the food is cooked by Khmer staff and is actually quite tasty. Vegan dishes we ate varied: curries, 3-bean chili, stir fry, veggie soup, black eye pea hummus, and lots of rice!
While at the retreat I indulged in the rest and rejuvenation package, complete with 3 different types of massages. A series of Cambodian massages (including one in Siem Reap), I think that they're probably better dubbed "full body presses" since the typical massage we Westerners think of doesn't exist here. Instead, massages in Cambodia feature a combination of poking, prodding and pushing. There's even a "full body press routine" that most therapists rarely stray from, even if you have a knot in your upper back the size of Italy.
The first massage I had at Hariharalaya was called a blind shiatsu massage. The massage was performed by – you guessed it – a blind man, named Leab. A nimble little guy, Leab spent half of the 60-minute massage perched on top of the massage table. I was fully clothed, so the 10 or so minutes he spent massaging my glutes were more painful than embarrassing. I left this session feeling relaxed and like my muscles looser. Leab has strong, smart hands and fingers, knowing just where  your body needs some TLC.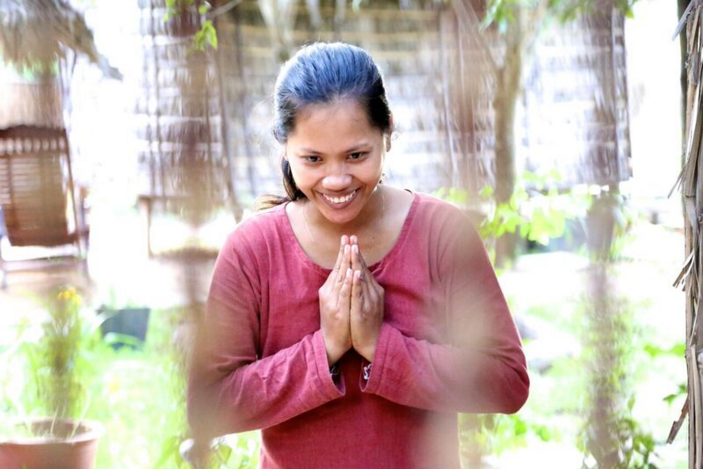 For the 30-minute Khmer massage, there is a choice between having your legs and feet worked on, or your back. Seeing as my calves were quite sore from the blind massage, I opted for the back. I have to say, I thoroughly enjoyed this massage. As must be customary for massages in Cambodia, the therapist sat upon the table with me: hovering over my legs and back, with my head in her lap, and perched behind me while I sat.
My final massage – though I'm using that term loosely – was a 4-hand massage which entailed two very strong little ladies going to town on my muscles. They say that four hands are better than two when it comes to massages. The 60-minute session ends with one lady at your head and the other at your feet, which is bliss. I left this final "full body press" feeling sore, yet relaxed.
Besides massages, there are plenty of relaxing activities to partake in at the retreat: a juice bar, art room, game room, hammocks to lie in, and bikes available to borrow for a ride into town. One day a few girls and I went biking – this was probably my favorite day of the entire retreat.
I was also lucky enough to take part in the Hidden Temple Yoga Session! We visited a temple from the 9th century, did a yoga session in the nearby woods, had a picnic lunch, and spent some time exploring the ruins.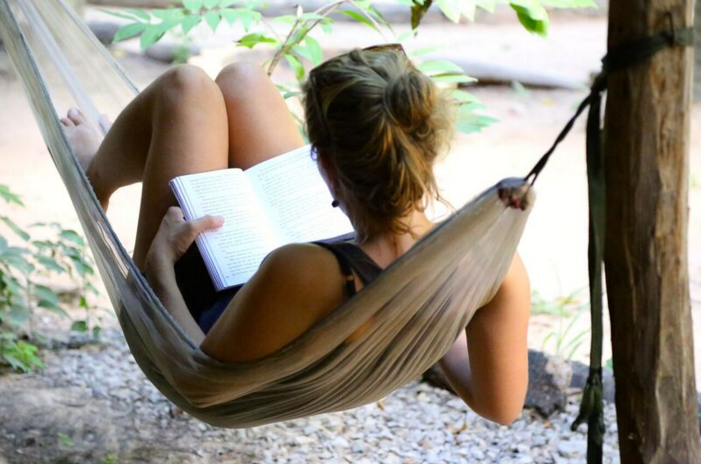 Accomodations
There are multiple accommodation options to choose from at Hariharalaya. Each price listed below is for the six day retreat and includes all meals, yoga classes, meditation sessions, and accommodation.
Dormitory  ($220): This shared accommodation has six beds per room
Twin Huts ($240: Two single beds in a thatched hut
Open Air Bungalow ($260): With no walls, the open air bungalow is set for the naturalist
Bamboo Retreat Huts ($280): I had the pleasure of staying in a bamboo hut. Each hut has a private balcony and hammock, and is large enough for a couple or for a single looking for a large comfy bed.
Private Rooms ($295): Located in the main building, these rooms are good for couples or those looking for a more private experience
Thinking of booking a stay at this Cambodian yoga and meditation center? More information can be found on Hariharalaya's website, including information on the many retreats Hariharalaya hosts each year.
All images used with permission from Hariharalaya Retreat Centre.