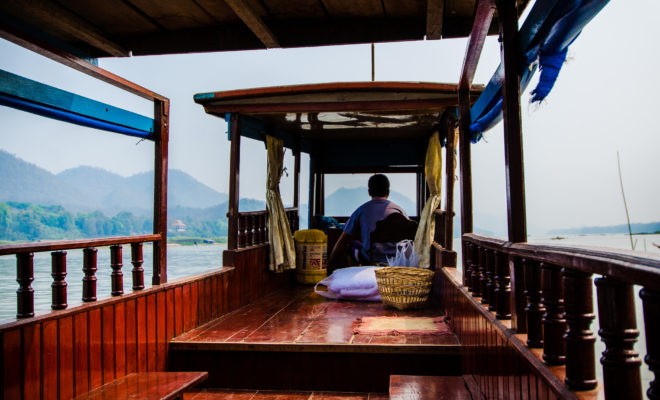 Jeff Hitchcock
Visiting Luang Prabang, Laos
|
In December, I went on a 3-week trip to Southeast Asia, including 2 weeks visiting Siem Reap and Phnom Penh in Cambodia, 5 days in Laos, and 2 days in Hong Kong. Overall, the trip was really fantastic – I met a lot of great people, got to meet up with friends from Hong Kong, saw amazing historical sites, had fun travel buddies, and ate yummy food. So as not to overwhelm, I'm breaking up my posts by city. Today's adventure: Luang Prabang, Laos.
Part of a former French occupation, Luang Prabang, Laos proudly boasts Parisian cafes with cafe au lait and pain au chocolat. Fringed by two rivers, the town is almost as romantic and dreamy as Paris itself. Luang Prabang is an idyllic city for lovers and I was in love…

What to do in Luang Prabang, Laos
Kuang Si Waterfalls
Of all the waterfalls I've seen in my life, Kuang Si is the absolute most breathtaking. Turquoise water cascades from one large fall into layers upon layers of smaller waterfalls. For an all-day experience, you can choose to trek there. Inclusive of one guide for two people, a multiple-hour hike, a van to/from the hiking point and lunch, it was the most expensive option at 44 USD. Garner more people or take a van straight to the waterfalls for a cheaper cost. There are many travel agents located on the main strip to set this up.
Bamboo Bridge
One of my favorite things in Luang Prabang was to walk across the bamboo bridge. The lazy river passes beneath and monk students traipse across on their way to one of the city's many temples. The 1 USD entrance fee covers the cost of the bridge being taken down each year during rainy season so it doesn't get washed away, and put back up again after the rain rolls out.
Mt. Phu Si
Climb to the highest point in Luang Prabang for lovely views of the city below.
Pak Ou Caves
Ride the waves for a half-day boat ride to the Pak Ou Caves filled with more than 4,000 sculptures of Buddhas. Again, most travel agents in town can set this up for you.
Visiting Luang Prabang's Temples
Gold-adorned and colorful, Buddhist temples paint nearly every street in Luang Prabang. Wake up early one morning for the Alms giving ceremony where hundreds of monk students walk from one end of town to the other collecting donations from the townspeople. I thought this would go without saying, but I read plenty of reviews online where tourists were bombarding the monks with their giant cameras and giving alms. Be respectful of the customs of the religion: take your shoes off in temples, don't get in monks' faces, and don't purchase alms for them since they can't eat whatever you give them.
Where to eat and drink in Luang Prabang
Tamarind Cooking Class
We had an absolutely splendid day cooking traditional Laotian food. There are plenty of cooking schools from which to choose, and Tamarind was at the top of the lists we read. The day begins with a tour of the local market followed by a van ride to their cooking school outside the city. The food we cooked was phenomenal and the setting was right out of a storybook.
Night Market
Every night for dinner, we ate at the night market's food buffet. There are multiple stalls that line the small alleyway selling all sorts of delicious fare. Make your way to the back of the market for a food buffet costing 1.25 USD. Yes, that's right: fill a bowl with all sorts of vegetarian options and they'll wok it up for just over a dollar! It was delicious and money-saving!
Utopia
An expat utopia in the middle of Luang Prabang, this bar is amazing. Looking over the river, there are places to lounge, dance, play volleyball, go bowling, and chat with the bartenders. I'm bummed I don't have any photos, but trust me that it's great!
Luang Prabang costs in U.S. dollars:
Kuang Si Waterfalls $44 with trekking
Night market for food buffet $1.25
Bamboo bridge $1
Tamarind cooking class $35
Mt. Phu Si entrance fee $1.25
Pak Ou caves $10