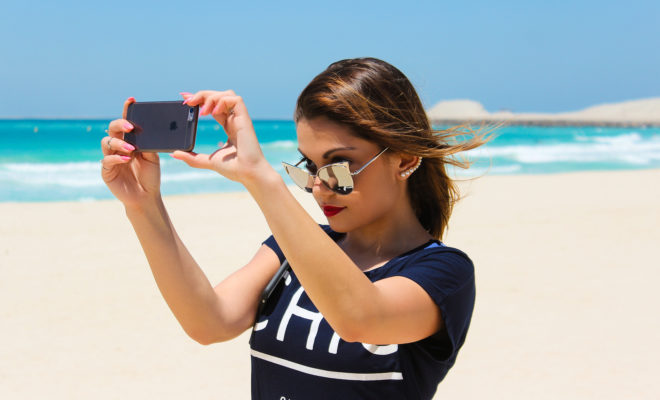 flickr/mlazarevski
Fun Texting Games To Play With Your Partner (Or Friends!)
|
Texting has long been a favorite way to communicate and stay connected for most of us. However, your text convos can get stale, fast. This has inspired many people to start playing fun texting games! Whether you're an introvert or an extrovert, regardless if you prefer hanging out in the flesh or communicating via text, texting games are here to stay. And they're not just something you can do with your friends… for example, 'QuickFire' is my favorite flirty texting game to play with guys!
Why are texting games catching on in popularity? Simple: they give you a good laugh, make it easier to make the first move, and provide a fun way for you to get to know you people better. The great thing about texting games is that just about everyone has a smartphone these days. Imaginative photos, videos, and audio have taken texting games to a whole new level. You're no longer limited to playing word games, general knowledge quizzes or song identifying apps. While these are still fun, both smartphones and group texts have upped the ante.
Did I mention that texting games are one of my favorite ways to stay connected in a long distance relationship?
My Favorite Fun Texting Games
By now, you're probably itching to know about some of our innovative ideas. Here's a list of my three favorite points-based texting games that you can play with your friends, boyfriend, or even in a group text. Feel free to change the rules, mix and match, or take them even further… 😉
1. Fastest Finger Quiz
One person is assigned the role of Game Master. He or she must ask questions, and the fastest correct answer gets a point.
2. Spot the Object
If you're at home, in the mall or even in a café, this game can be a lot of fun. It's similar to hide-and-go-seek only with an object instead of a person. Choose an object to hide, or turn this into more of an "I Spy" game with an existing object or landmark. When your friend finds the object, they'll win a point. In order to submit proof, they'll text a photo of the object.
3. Dare
Think of this as the modern-day version of everyone's favorite sleepover game, Truth or Dare. Friends can be made to do embarrassing tasks in public places in order to win points. Dare your friends to take selfies with strangers, to pose while straddling a statue (be careful it's not one that would offend people!) or buy something funny. The person with the highest number of points at the end of the game wins! If you're playing this texting game with your boyfriend, it can start off tame and maybe evolve into a sexy text exchange… 😉
In order for these texting games to be successful, you should establish two things before starting:
1. Establish a prize
Winning points should mean something, so be sure to assign a value to them. Maybe the loser should be made to pay for the next round of drinks. Or, if you're playing in couples, the winner should receive a special, sexy favor of their choice. This can be one of many exciting ways to create sexual tension with your man!
2. Don't hold back
Be spontaneous and step out of your comfort zone. The only way these texting games will truly be fun is if everyone is willing to get a little crazy at times.
Use texting games to have fun, to entertain your friends or to grab the interest of someone you've had your eye on for a while. If you're already in a relationship, prevent it from going stale with texting games – your options are limitless. You only need a little imagination. Go have fun!