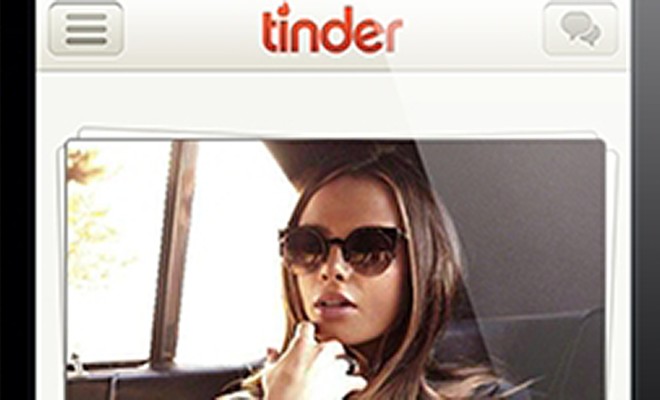 First Time on Tinder: Let's Lie and Say We Met in Vegas
|
It's the weekend. The perfect time to meet people (namely, men). So, I covered my options: getting dressed up, taking public transit and attending a party or, you know, signing up for Tinder.
Tinder is a place where people lie about their height (you know who you are – advertising as Mr. 6 ft. when my heels are taller than you), text you at 8 am on a Sunday, and have sparkless conversations. Yes, I get more of a jolt when I turn on my apartment lights.
Maybe this review is a tad harsh, so let's backtrack and talk a little bit about my first time on Tinder.
Tinder: My first thoughts
The app wasn't as fast-paced as I thought it would be, and I realized this wasn't this hookup app. Sure, there was a guy or two who made comments such as, "I like long legs." (Note: my profile did not show my lower half).
But what I found on my first time on Tinder was that there were really nice, well-packaged men that I might have met at a mixer, a museum, or aisle 9 at Whole Foods. There was nothing particularly flirtatious about the conversations I had. It was like treating yourself to "Glazed and Confused"… and biting into a stale doughnut. One guy was promoting his nonprofit, another one discussed journalism and Starbucks' marketing efforts, and another talked about art.
Oh, and I didn't ask anyone why they were on there.
Is this your first time on Tinder?
The first time I heard of Tinder was from my boss, who met her recent catch on the site and was instantly propelled into a a long-distance relationship that sounded relatively sane. After enough hype, I found myself sprawled out on my couch, ready to experience Tinder first-hand.
The whole thing was a blur. I first tried it on a boring Friday night, and quickly ditched the app in favor of a book. The following night, the topic of Tinder came up at a party, and no one knew what it was. So, we all had a shot of rum, fired up Tinder and started assessing and swiping.
Every time I got a match in the beginning (which took a long time because I took this way too seriously), I exclaimed in my high-pitched voice, "I have a new Tinder match!" It was like seeing that hot guy at a party (you know  – the one that you never thought was interested) and having him give you a nod and wry smile.
What's Your Flavor?
One of the things that surprised me about Tinder was that the were so many men — different kinds! It was choosing either chocolate or vanilla ice cream your whole life and then suddenly being introduced to cake batter. Suddenly you find yourself halfway into a pint and you don't know how it happened, but it did, and you're OK with it. There were the pilots, jocks, shy guys, book worms, the ones bringing up marriage, etc. As I started adding to my list of suitors, I realized that I didn't understand how it worked.
Since I was a bit confused about Tinder, I had to do a bit of research. Here are the top three bits of Tinder advice that I found:
1. Slow your roll and only swipe when needed, because there are not an unlimited supply of Tinder men (or women)
2. People will ask for your number – early and often
3. Don't say something right away. Let the match marinate for a bit. I found this a bit weird because I thought it was this platform for quick hellos and goodbyes—a place people went to for a companion for the night or the mellow Wednesday wine tasting you have wanted to check out. In all honestly, I got more action (and faster results) at an el stop than on Tinder.
Overall Tinder rating?
For those who can't stand anything less than instantaneous texting, this app is a nightmare. People respond slowly and infrequently – and at the weirdest times. Fact: NO ONE wants a text at 2 in the morning or afternoon.
If all you need is a little dip in your love bank, then save your mascara and 45 minutes of primping, skip the beer at the pub after work, and opt for wine and Tinder instead.
Stay tuned for next installment-  I might just meet one of these fine, friendly men. In the words of one Tinder profile: we might just lie and say we met in Vegas.
About the Author
Check out more posts by our anonymous guest contributor on her blog: http://themenyoumeet.wordpress.com/