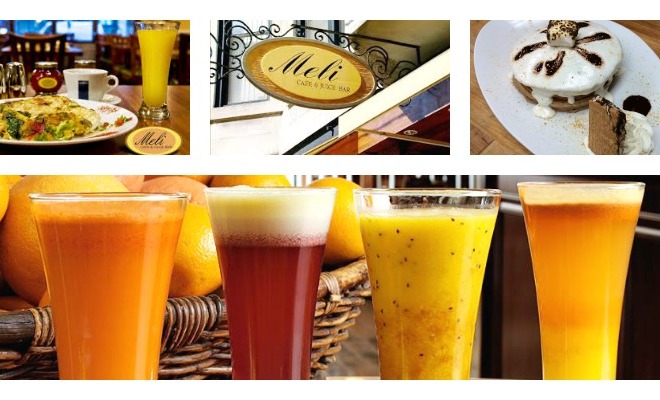 Meli Cafe: Your New Favorite Chicago Brunch Spot
|
If breakfast is the most important meal of the day, then it goes without saying that it's super important that your breakfast is kick-ass. Thankfully, we live in a city that loves to brunch, and Chicago's breakfast options are endless and impressive.
Case in point? Meli Cafe, the cafe that's become one of Chicago's favorite brunch spots thanks to Executive Chef Frank Georgacopoulos' unique dishes and their use of fresh ingredients and penchant for making things in-house. In fact, most of what you see on the table – including their butter, marmalade, and even their ketchup – is made in-house! You can absolutely taste the difference (but more on that later).
Speaking of fresh – one of Meli Cafe's highlights is their impressive juice bar. While we like our boozy brunches, sometimes a detox is in order.  If you are slackin' from the rough work week, start off with one of Meli's fresh juices. With drink names like Body Cleanser, Rejuvenator, and Pure Gold, it's like the Beverly Hills version of Jamba Juice. Feeling brave? You can wash your breakfast down with a shot of wheatgrass, like Laura did.
Meli also has an amazing coffee bar – something that many Chicago brunch spots are lacking. The coffee bar (which features illy coffee) has a pretty diverse menu, including cappuccinos, espressos, and the Greek frappe. In our personal opinion, no visit to Meli (or Greektown in general) would be complete without a frappe. If you've never tried one, scrub any preconceived ideas of what a frappe is out of your mind – Greek frappes may be made with coffee and served cold, but that's about all they have in common with American frappes.
The Food
Rest assured even the pickiest and large groups will find something delicious from their robust menu, which features a wide array of items ranging from savory and sweet breakfast items to non-breakfast foods and healthy options. Meli even features gluten free brunch options, including gluten free bread that is actually delicious (seriously – they need to start selling loaves of that stuff!)
Lisa ordered a banana pecan Belgian waffle. The waffle comes served with Meli's famous house-made honey butter and is topped with whipped cream, powdered sugar, and – you guessed it – bananas and pecans. Like everything else on the menu, Meli's waffles are quite large, so prepare to come hungry.
Brandy, our resident Cajun, always likes it hot so she went in for the Jalapeño — a tasty bowl of chicken chorizo, cilantro, avocado, tomato and onions served atop a potato hash and eggs prepared to order.

Gina had the Down on the Farm breakfast bowl. The egg comes prepared to your request and is laid atop a mixture of bacon, sausage, ham, onions, peppers, tomato, and cheddar. All piled high on a bed of red skin potatoes and served with your choice of toast (she chose wheat). Definitely enough to feed more than one person and well worth it. Pair that with one of their tasty concoctions from the fresh juice bar or one of their tasty coffee drinks and you're all set.
Laura devoured the Chicken Omelet which was filled with chicken, bacon, avocado, onion, mushroom, tomato, and Jalapeño cheddar (substituted with Pepper Jack) served with baby red potatoes and toast. Warning: go with an empty stomach!  The omelet nearly took up the entire plate. Overall, light and fluffy, cooked to perfection, with little bites of buttery potato-ey goodness.
The four of us also shared one of Meli's specials – pumpkin bread French toast with hot pumpkin latte maple syrup. If you're looking for a unique brunch option, we highly suggest checking out said daily specials – all were incredibly inventive!
The Atmosphere
We've been to fancy, high-end brunch spots. We've been to crappy, hole-in-the-wall brunch spots. Meli Cafe is the perfect, quaint, take your family, take last night's date, or take yourself type of spot. Not pretentious – just the right amount of charm.
The Service
Meli Cafe sets the bar on what nearly every brunch locale should offer.  The service was absolutely astounding.  From the moment we walked in to be seated to the wait staff to the manager – all exemplified true 5 star service.
---
Where is Meli Cafe located?
Meli Cafe has three Chicago locations: Greektown (the location we visited) at 301 S. Halsted, River North at 540 N. Wells, and Printer's Row at 500 S. Dearborn.
Note that menu and hours vary slightly based on location.
Pro tip: Meli Cafe doesn't accept reservations, so expect to wait a bit. But trust us when we say that the wait will be worth it. If you'd rather stay in bed, Meli Cafe does deliver. Orders can be placed through GrubHub or DiningIn, but deliveries are made by DiningIn. (We'd love it if they ditched DiningIn in favor of a cheaper and better delivery service!)
Do you have a favorite Chicago brunch spot? Share your hidden gem with us in the comments section!
---
Note: Our meal was complimentary, but all of the warm and fuzzy things we said came straight from our hearts.