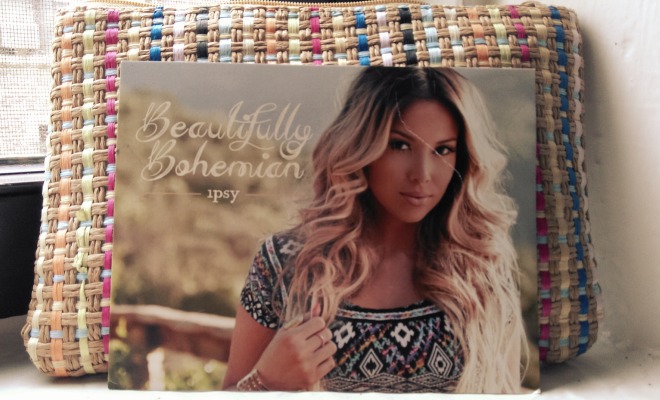 Is Ipsy Worth It? We'll Find Out!
|
I've always loved the way some people do their makeup, but I've never really been very adventurous myself. Mainly because makeup can be expensive and I didn't think it was wise to spend a bunch of money on something that may not even look good on me. And while I like to look good and take care of my appearance I try to do so while maintaining a budget. (Single girl in the city, ya know!) That is until now, with so many options out there on beauty box subscriptions how do you really know which one is best – or which one is best for you? We've done Birchbox, and Glossybox, and while those are both lovely subscriptions they just weren't in my budget so I had to go with something different.
Is ipsy worth it?
I certainly think so. For $10 dollars a month you're getting an assortment of full-sized products, not to mention the cute bag that it all comes in. And all you have to do is take a quick quiz so that Ipsy knows what you like.
I've tried other subscription boxes in the past, but they were more money for less product so I didn't stick with them very long. I mean, there is a level of commitment with full-sized products, but I have yet to receive anything that disappoints. There have even been a few "hm, didn't think I'd like that" moments, and I definitely had one with this months bag. But I'm being brave and trying new things (or colors in this case)!
The April bag: beautifully bohemian
April's Ipsy bag was super cute (pictured below). I like that the bags vary each month, both in style and size – depending on how many items come in your glam bag. Bags that I've received in the past have been repurposed, whether it be by me or friends that have needed something to keep their own makeup in.
This month's bag came with 5 items.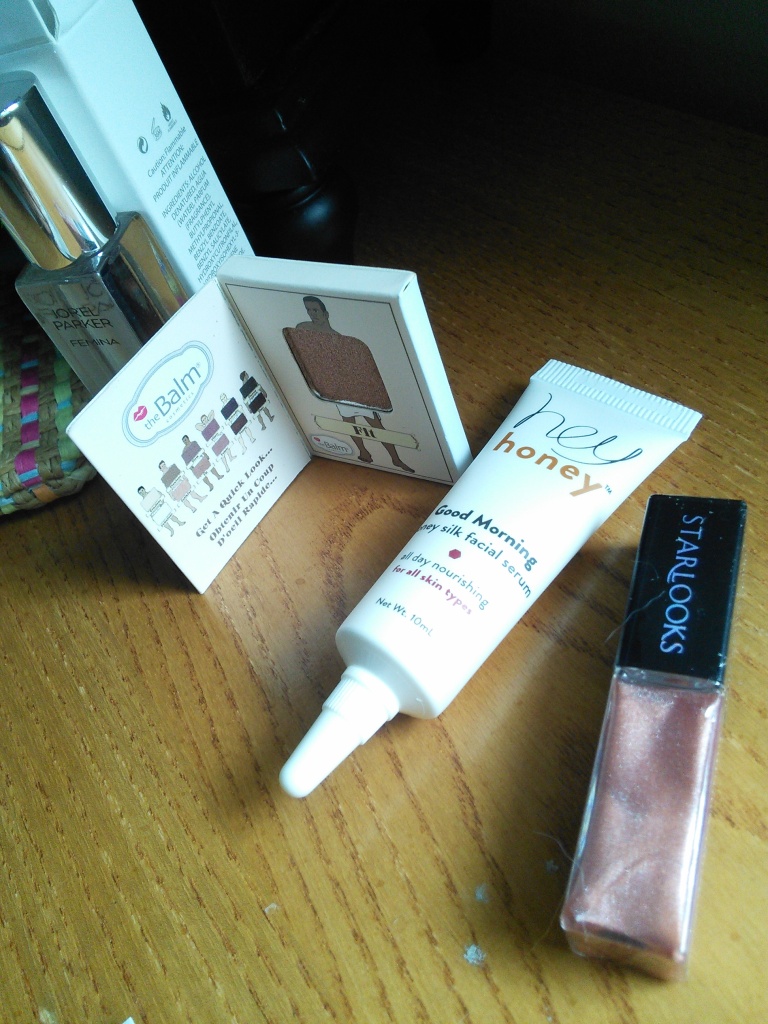 From Left to Right:
Jor'el Parker Femina – Perfume
– I. Love. This! I've actually been in the market for new fragrances, but most of what I've tried has been too strong. I like more subtle, floral scents. Femina is sweet and subtle and it's actually pretty perfect, there's even a hint of citrus in there. I wish I could share this lovely smell with you through this post but alas, that is impossible. So I recommend you check it out for yourself!
Hey Honey – Good Morning – Honey Silk Facial Serum – Sometimes my skin doesn't react very well to products, at least initially, so I tend to stick to what I know. But I didn't notice any irritation with Hey Honey, which is good because I'm running low on what I currently have, and that stuff took a while for my skin to adjust to.
theBalm Cosmetics – NUDE Dude Eyeshadow Single– For being nude it has a bit of shimmer to it, which is totally fine with me because I think matte colors make my face look dull. It's compressed powder so I think the packaging is a bit impractical (although it is very cute), so just be careful with that! I once had a similar product crack up in my purse and had eyeshadow everywhere.
Starlooks – Satin Finish Lip Gloss – Fab! Adds just the right amount of shine.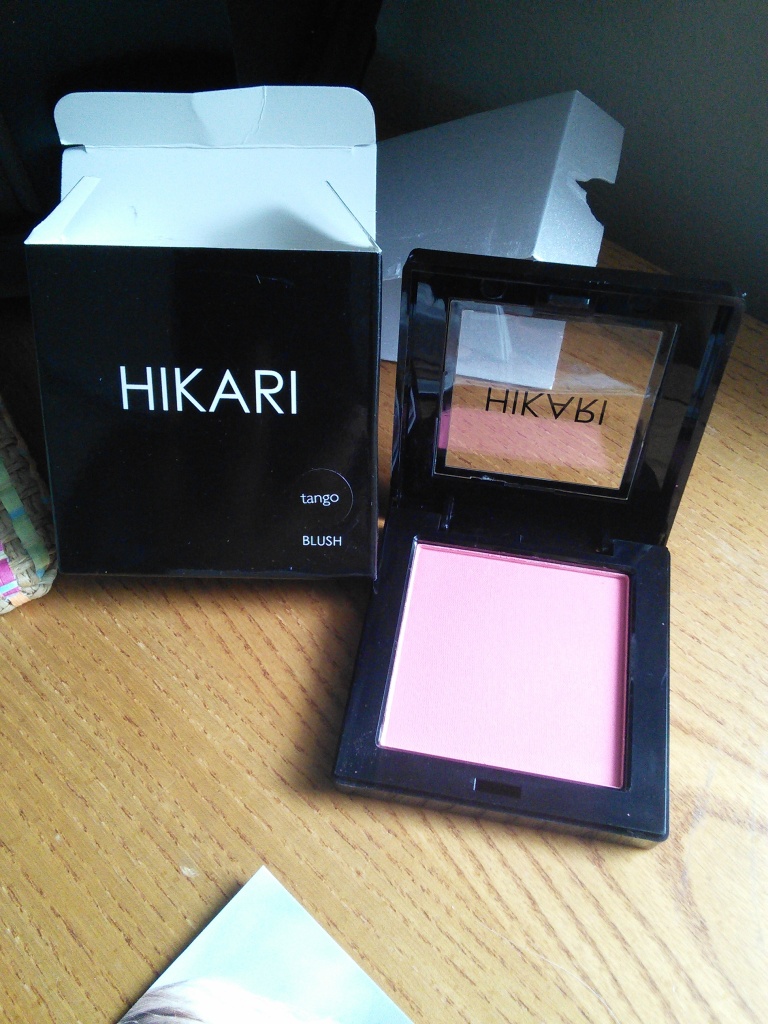 I also Received the Hikari Tango Blush Pink Cheek Color
. This was the item that I wasn't too sure about, it seems a little bright, and while I have no problem wearing bright eyeshadow I have never been one to wear much in terms of blush. I'm always paranoid that I'm going to end up running around like Pikachu. But after messing around with this blush I realize that really it just depends on the weight of your hand and how heavy your stroke is. Yes, if I don't tap out excess blush from my brush then it will have more color on. So here's a nice little reminder for all of you who like to use pressed/loose powders – make sure you tap out excess product from your brush! So Ipsy, you can totally send me some more bright colors because I'm ready to give them a try!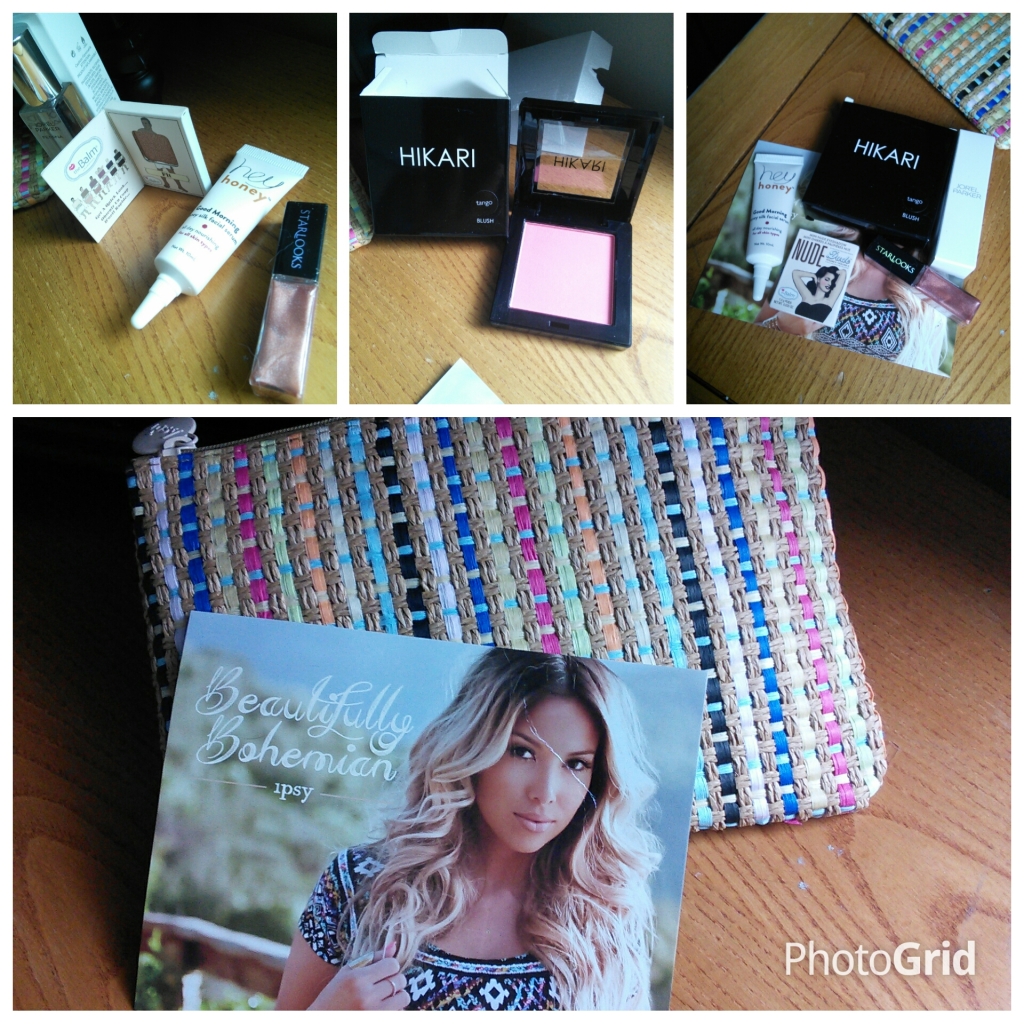 And there you have it. Is Ipsy worth it? I think so, but you don't really have to take my word for it, give it a try for yourself. Or if you have something better let me know and I'll give it a shot.